My Canterbury Tales Class…
…through my random notes.
So I never got to write about the Canterbury Tales class I took in the Fall semester. First off, during the first two or three sessions, I felt like a deer in the headlights. Here I am, working in children's book publishing by day, and I have to switch mental gears for the evening to talk about the Middle Ages and Chaucer and the Canterbury Tales. And read scholarly articles. And write a huge final paper. Well, eight pages might not be huge for some, but for me it was pretty darn hard. I graduated college in 2006, and I am much more comfortable talking about books and literature these days than writing and even analyzing it!
But in the end, I really enjoyed the class. The professor was amazing. I liked him so much that I'm taking another course with him called Animals in Medieval Literature, which is starting in about a week and a half. I'm taking another course, a required Critical Theory course, so between those two, plus working full-time, I feel like I'm signing my weekend-free time away. But I'm still excited.
Moving on…to some interesting notes from the class then. Maybe someone out there will find this stuff interesting too….
—The Middle Ages were invented in the Renaissance
—Middle English 1066-1450    (French vocabulary comes into the language)
—Modern English 1450-present
—Chaucer treated English as a language of power
—Genres
Tragedy is any story of when people go from good to bad; a tragic outlook when everyone and everything is against you; different from a Greek tragedy (tragic flaw)
Romance—people travel and have adventures
Hagiography—stories about saints; holy people usually ending up dead/tortured
—According to the rules set in the General Prologue, there should have been 120 tales. We only have 24
—In regards to the The Knight's Tale, from the 14th century to 1939, it was considered a glorious and virtuous tale: the two men are driven by love, Theseus has the best interests of everyone at heart—but this has changed in the last 60 years. Now we know better and we are suspicious of the tale and its qualities now
—Wife of Bath—sociopath, vice figure (allegorical), proto-feminist, heretic, or sexual entrepreneur?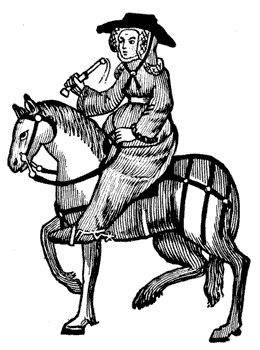 —Chaucer writes about women who do not want to be a part of the story: Virginia, Emily, Constance, Wife of Bath
—Most popular literature in the middle ages were like "how to" manuals—not much different from modern times
—Animal literature is equally consumed in the middle ages, just not in the modern times—fables increasingly become read by children
—Reasons nuns need a priest—need someone to say a mass
—Terry Jones, of Monty Python fame, is a Chaucer scholar and actually wrote about the possibility that Chaucer might have been murdered
—Widows were thought to be dangerous—they were sexually experienced and they had money
—Raptus—rape or kidnapping? Chaucer was actually fined for this, but was it rape or kidnapping?
—The Franklin's Tale creates a type of marriage that maybe the Wife of Bath was aiming for when she married for love—it has a happy ending but critics forget that this tale is set in a mythological place
Other notes were regarding specific things to the Tales and that would just require a lot more explanation. But good news! My final paper on how Theseus from The Knight's Tale is a misogynistic tyrant apparently rocked. I got a better grade than I was expecting because I wasn't 100% happy with what I turned in. Nonetheless…quite happy about that.