In My Mailbox (24)
In My Mailbox is hosted by The Story Siren. Thanks Kristi!
It was a big week in that there were two author events this past week. So first up, the books from the Books of Wonder event (wrote about it in the previous post) that I bought:
Everyone in the Underland has been taking great pains to keep The Prophecy of Time from Gregor. Gregor knows it must say something awful but he never imagined just how awful: It calls for the warrior's death. Now, with an army of rats approaching, and his mom and sister still in Regalia, Gregor the warrior must gather up his courage to help defend Regalia and get his family home safely. The entire existence of the Underland is in Gregor's hands, and time is running out. There is a code to be cracked, a mysterious new princess, Gregor's burgeoning dark side, and a war to end all wars. (This is the fifth book in the Gregor books. Loved it loved it loved it!)
Against all odds, Katniss Everdeen has won the annual Hunger Games with fellow district tribute Peeta Mellark. But it was a victory won by defiance of the Capitol and their harsh rules. Katniss and Peeta should be happy. After all, they have just won for themselves and their families a life of safety and plenty. But there are rumors of rebellion among the subjects, and Katniss and Peeta, to their horror, are the faces of that rebellion. The Capitol is angry. The Capitol wants revenge. (Have already read this and now it can sit next to my signed copy of Hunger Games)
It is the cusp of World War I, and all the European powers are arming up. The Austro-Hungarians and Germans have their Clankers, steam-driven iron machines loaded with guns and ammunition. The British Darwinists employ fabricated animals as their weaponry. Their Leviathan is a whale airship, and the most masterful beast in the British fleet. Aleksandar Ferdinand, prince of the Austro-Hungarian Empire, is on the run.  His own people have turned on him. His title is worthless. All he has is a battle-torn Stormwalker and a loyal crew of men. Deryn Sharp is a commoner, a girl disguised as a boy in the British Air Service. She's a brilliant airman. But her secret is in constant danger of being discovered. With the Great War brewing, Alek's and Deryn's paths cross in the most unexpected way…taking them both aboard the Leviathan on a fantastical, around-the-world adventure. One that will change both their lives forever. (The packaging on this book is marvelous!)
The next event was for the 40th anniversary celebration of Sesame Street. A new book came out for the occasion, so the author, as well as Carroll Spinney (aka Big Bird and Oscar the Grouch), Maria, and Fran Brill (aka Rosita and Prairie Dawn) came to an event at B&N this past Thursday. I haven't had a chance to write about it yet (expect a post on Monday or Tuesday about it, with pictures!). So here are the books bought and signed:
The most beloved children's show of all time is turning 40! This celebration of four decades of groundbreaking educational programming invites fans young and old behind the scenes at 123 Sesame Street. In a book as lively, energetic, and appealing as the television show it chronicles, readers are treated to an inside look at every aspect of Sesame Street. Beginning with the initial idea for the show and the creation of the pilot episode and moving through its evolution over four decades, Sesame Street provides an insider's view of all of the delightful Muppet and human characters, as well as the writers, directors, producers, and all the other creative people who continue to make learning fun for generations of kids. Step behind the scenes and learn how the Muppets are built, how they move, how they speak, and what they think and feel. Did you ever wonder what Big Bird looked like in the first season of the show? Would you like to see the puppeteers behind (and under!) the set performing their roles? How about a picture of Bert being built? All of that and more, including facsimiles of the show's pioneering scripts and some of Jim Henson's original sketches, are included in this revelatory and adoring celebration. The 1,500 photographs—both in front of and behind the camera—come directly from the archives of the Sesame Workshop, and many of them have never before been published.  (What a massive coffee book! And yeah, lots of pictures and anecdotes, and it comes with a DVD)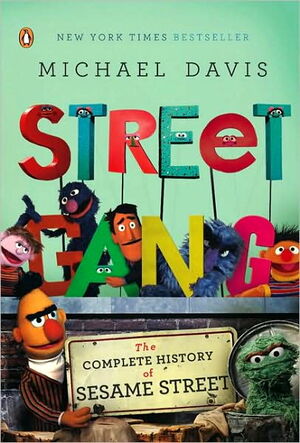 Street Gang is the compelling, comical, and inspiring story of a media masterpiece and pop-culture landmark. Television reporter and columnist Michael Davis-with the complete participation of Joan Ganz Cooney, one of the show's founders-unveils the idealistic personalities, decades of social and cultural change, stories of compassion and personal sacrifice, and miraculous efforts of writers, producers, directors, and puppeteers that together transformed an empty soundstage into the most recognizable block of real estate in television history. (This book had already been out but is now in paperback!)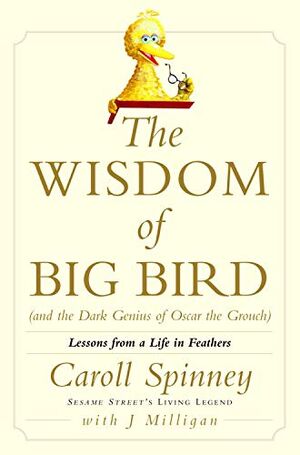 An inspiring message for all ages: Find your inner bird. If you're looking for wisdom and joy in your life, go straight to Sesame Street and heed the words of its most beloved and profound resident, Caroll Spinney, who has spent the past thirty-four years in a bird costume (and a trash can) as Big Bird and Oscar the Grouch. Three decades inside a giant puppet have taught Spinney a valuable and surprising lesson: Being a bird can make you a better person. In The Wisdom of Big Bird, the living legend of Sesame Street describes how we can all find our inner bird (or grouch). Each chapter illustrates a piece of useful wisdom Spinney has gleaned from a career in feathers. The lessons Big Bird teaches children every day on Sesame Street are the same ones that have brought Spinney success and satisfaction in his own life. Warm, witty, and affirming, Caroll Spinney's memoir proves that being a bird can make you a better and happier person.
And from the library, there were a few books waiting for me:
With the stunning revelation surrounding Bliss's true identity comes the growing threat of the sinister Silver Bloods. Once left to live the glamorous life in New York City, the Blue Bloods now find themselves in an epic battle for survival. Not to worry, love is still in the air for the young vampires of the Upper East Side. Or is it? Jack and Schuyler are over. Oliver's brokenhearted. And only the cunning Mimi seems to be happily engaged. (Eagerly waiting to read this one. It is one of the few new vampire books/series that I truly enjoy!)
One day David Small awoke from a supposedly harmless operation to discover that he had been transformed into a virtual mute. A vocal cord removed, his throat slashed and stitched together like a bloody boot, the fourteen-year-old boy had not been told that he had cancer and was expected to die. In Stitches, Small, the award-winning children's illustrator and author, re-creates this terrifying event in a life story that might have been imagined by Kafka. As the images painfully tumble out, one by one, we gain a ringside seat at a gothic family drama where David—a highly anxious yet supremely talented child—all too often became the unwitting object of his parents' buried frustration and rage.  Depicting this coming-of-age story with dazzling, kaleidoscopic images that turn nightmare into fairy tale, Small tells us of his journey from sickly child to cancer patient, to the troubled teen whose risky decision to run away from home at sixteen—with nothing more than the dream of becoming an artist—will resonate as the ultimate survival statement. (This is for one book club at work)
Persepolis is the story of Satrapi's unforgettable childhood and coming of age within a large and loving family in Tehran during the Islamic Revolution; of the contradictions between private life and public life in a country plagued by political upheaval; of her high school years in Vienna facing the trails of adolescence far from her family; of her homecoming–both sweet and terrible; and, finally, of her self-imposed exile from her beloved homeland. It is the chronicle of a girlhood and adolescence at once outrageous and familiar, a young life entwined with the history of her country yet filled with the universal trials and joys of growing up. Edgy, searingly observant, and candid, often heartbreaking but threaded throughout with raw humor and hard-earned wisdom–Persepolis is a stunning work from one of the most highly regarded, singularly talented graphic artists at work today. (This is for yet another book club at work. I had seen the movie when it came out and am curious to know how it reads.)
So there you have it. Phew! Looking forward to seeing what everyone got!